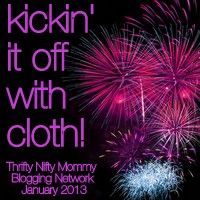 Nic & Elli
is a WAHM (work at home mom) company based out of British Columbia, Canada and named after her two children. The company actually didn't start out as a cloth diaper company at all, but rather with the need to create bibs for their messy children. While n their Etsy
page
you will find handmade items from bibs, quilts, changing pads and more and their
website
has wetbags, newborn and one size cloth diapers, including various starter kits for all of your needs that comes from their supplier in China. They have super cute prints and everything is covered with a money back satisfaction guarantee.
We have been cloth diapering for a few weeks now and absolutely LOVE it! One thing we never really thought about was having a small wetbag for on the go. I have a pail liner, but I didn't see why I needed a small one for the diaper bag. I mean couldn't I just use a plastic bag? I quickly learned that plastic bags annoyed me and I wanted something I could just throw into the washing machine like everything else.


I was sent this minky wet bag to review from Nic & Elli. I am in love with minky since I started cloth diapering, so I immediately fell in love with the feel of the outside. The inside is made of waterproof PUL. I was able to fit 6 dirty diapers and inserts in comfortably. I would have been able to get one or two more in with some stuffing. The wetbag also has a front pocket which is great for holding extras like a clean diaper, wipes, solution, etc. I have used this bag while being out a few times and never had a problem with it leaking. The zippers have held up well so far and seem to be very durable.
My only complaint is the handle. I love that it has one, because my other wetbag doesn't, however, I wish it clipped somehow. With this one it needs some sort of hook to hang on too. The wetbags retail for $12, which is a little higher for a small wetbag that I have seen before.
One winner will receive their own wet bag from Nic & Elli. Just fill out the form below. The giveaway will be open until 2/2/2013 12:00am EST.
a Rafflecopter giveaway