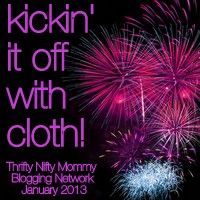 Let's face it... after even just a few day of cloth diapering our babies, we can't help but envy the super soft materials that go on their bums. It's time us moms are able to feel a little better too, even if it's just a few days a month! I admit the thought of "mama cloth" scared me, maybe even grossed me out a little when I first learned about it, but now after using them I'm hooked. The colors and size alone beat those thick, uncomfortable disposable ones any day.
I received two different mama cloth postpartum pads to try. One minky and one bamboo velour. When I first received them, I immediately fell in love with how soft they were and how pretty (
you will never EVER use those words to describe disposable pads).
Then, when you compare the size of disposable pads that you get in the hospital for postpartum bleeding (that feel and even look like diapers) to then thin cloth pads, I thought there was no way they were going to be able to be able to contain postpartum bleeding.
Boy was I wrong!!
I am absolutely amazed that they were able to contain my bleeding extremely well with no leaking whatsoever. Because the mama cloth snaps around your underwear I didn't even have to worry about leaking on the sides, like I did with the disposable pads. Lastly, I have washed these quite a few times and not only do they feel just as soft as day 1, they also haven't stained one bit!
I honestly can't say I like one over the other even after using them many times. I'm equally in love!
Finally, the customer service I received was AMAZING. Shipping was super fast and she even followed up and made sure I received my order.
More About the pads:
The zebra print is made out of Minky, a super soft polyester fabric. Minky is a wicking fabric which means it draws moisture away from you into the core of the pad which allows you to feel drier longer. The Berries color is made from Hand Dyed Bamboo Velour, a soft natural fiber. Velour is very absorbent and personally hand dyed at the Pink Lemonade Shop themselves. Both pads are backed with water resistant WindPro Fleece (professional grade fleece) and have bamboo fleece through the core for absorbency.
BUY IT: You can buy products
here
. Don't see what you want? You can place a custom order with Sue!
WIN IT: One lucky reader will win $20 credit to the Pink Lemonade Shop store. Just enter the Rafflecopter form below :) Good luck!
a Rafflecopter giveaway