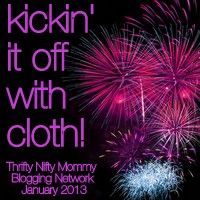 is sponsored by
Tropical Traditions
One of the first things I learned when considering cloth diapering, was that I would have to throw out that Destin and find a cloth diaper safe cream. Many on the market baby creams that you have probably heard of, can cause a build up on cloth diapers that will eventually cause them to start leaking. All the mommies I kept talking too, recommended coconut oil. Now before you start looking at me (well, the computer) like I'm crazy, hear me out.I am all about saving money and products having more than one use. When people recommended coconut oil I was intrigued at all the many usages of it.
About the company:
Tropical Traditions
was started by Brian & Marianita while they were living in the Philippines. They wanted a way to share local native herbs and coconut oils with the western world that had been accusing coconut oil as being unhealthy. They were shocked by their success. Their goal now is adding good food sources and healthy products to bring to the consumer. They trust fully in all their products and won't sell you products they won't give their children.
I was sent the 32oz glass jar of Certified Organic Virgin Coconut Oil to review. I was always told that you can tell a good coconut oil when it actually smells like coconut. As soon as I opened the jar, I got a big wiff of coconut. It smelled devine.
Coconut oil has a crazy amount of uses (some of which you will find
here
), but let's just talk about how great it is for cloth diapering. My baby girl is only 8 weeks old, but when I first started cloth diapering, she got a little rash two or three times. I immediately put some coconut oil on there and by the next diaper change it had significantly cleared up, after continuing to use it a few more time it was non-existence. In addition, to being natural and organic, I love that it makes her smell great too. Even though it went on her bum, Andrew commented that she smells like a coconut when he came up to kiss her after using it for the first time.
You only need a pea sized amount as it melts in your fingers very quickly and easily spreads. I feel confident knowing that I am using a high quality product on my daughter's most sensitive parts that won't ruin my cloth diapers. Tropical Traditions always has a sale going on and you can buy containers from 16oz to 5 gallon making the cost well worth it! I am seriously in love with this stuff!!
More about the company:
Tropical Traditions is America's source for
coconut oil
. Their Gold Label Virgin Coconut Oil is hand crafted in small batches by family producers, and it is the highest quality coconut oil they offer. You can read more about how virgin coconut oil is different from other coconut oils on their website:
What is Virgin Coconut Oil
?
One lucky winner will get a quart of coconut oil! Just Fill out the Rafflecopter form below.
The giveaway will be up until 2/4/2013 at 12:00am EST.
a Rafflecopter giveaway
Disclaimer:
Tropical Traditions provided me with a free sample of this product to review, and I was under no obligation to review it if I so chose. Nor was I under any obligation to write a positive review or sponsor a product giveaway in return for the free product. I do have affiliate links in this posting and while I do receive compensation only if you purchase something, it helps out my family, so thank you.